The Slide Area No. 11/summer 2008
Why is it that the most fascinating titles escape one's attention upon their initial release? How could I have ignored Lash!: The Hundred Great Scenes of Men Being Whipped in the Movies by Alvin Easter (XLibris.com, 2004)? Each lashing sequence is described in loving detail, the removal of the upper garment, the bite of the whip or other appropriate instrument upon the flesh, etc. Alvin Easter is obviously an aficionado. He identifies Jonny Lee Miller in Dead Man's Walking as receiving the greatest single lash! Fans of the genre will be disappointed to learn there are no illustrations, apart from a cover photograph of Alan Ladd in Two Years before the Mast.
Lash! The Hundred Greatest Scenes...
After reading Alvin Easter's book I am sufficiently aroused to look for other volumes that have escaped my attention but whose authors are worthy of (at the least) a tongue lashing. After Richard Barrios' Screened Out: Playing Gay in Hollywood from Edison to Stonewall (Routledge, 2003) can Harry M. Benshoff and Sean Griffin have anything new to say in Queer Images: A History of Gay and Lesbian Film in America (Rowman & Littlefield, 2006)? No. Just because she was on screen in the 1930s and is still alive, does Sybil Jason have anything major to say in her autobiography, Five Minutes More (BearManorMedia, 2007)? No. In fact, it takes little more than five minutes to read anything here that is worthwhile.

Film academics, of course, deserve to be beaten on a regular basis, although, of course, some of them may enjoy it and some of them are so scary that one might find the tables turned. The most scary of recent volumes from the academic film brigade is Frances L. Restuccia's Amorous Acts: Lacanian Ethics in Modernism, Film, and Queer Theory (Stanford University Press, 2006). If the title is not frightening enough, there is always the dust jacket blurb: "Queer theory engages Lacan's conception of self-shattering love to traverse the pernicious fundamental fantasy of heterosexist reproduction." I believe Doris Eaton only

made three films in the 1920s, plus a cameo role in the Jim Carrey vehicle, Man on the Moon. She is the subject of one of the weirdest books I have come across, titled Century Girl: 100 Years in the Life of Doris Eaton Travis Last Living Star of the Ziegfeld Follies (Regan, 2006). Not surprisingly, this expensive, coffee table volume was not a bestseller, and you can now pick it up for around ten dollars a copy. As to whether it is worth even that amount of money depends on your interest in owning a book masquerading as an artwork, with cutouts, collages and handwritten text by Lauren Redniss. It may be a "new style of biography," but it is hardly an engrossing or all-encompassing one. Why am I even referencing such a book? I suppose because I find it oddly fascinating in its incongruity. It is almost fearful to imagine that in these strange times we may encounter more so-called biographies that waste or lose the lives of their subjects in the artistic bent of their "authors."
The most ambitious of film books, and, one must assume, self-published, is Charles Zigman's World Coolest Movie Star: The Complete 95 Films (and beyond) of Jean Gabin (Allenwood Press).
In fact, this is not one book, but two, with the first volume boasting a foreword by Michelle Morgan and the second, one by Brigitte Bardot. Both forewords are very short – less than half-a-page in length. The author devotes four pages in volume one to the subject of "How cool is Jean Gabin," including such revelations as Johnny Depp's regret at never being able to work with Jean Gabin, that the cartoon character Pepe le Pew is based on Jean Gabin's Pepe le Moko, that there is an Italian techno band named Gabin, and that the actor is the only non-cowboy movie star in the world with his own museum – in Meriel, France. As one might expect, the author provides extensive (exhaustive is perhaps a better word) coverage on each of Jean Gabin's films. And I suppose that the actor is certainly deserving of this amount of attention, although he is not alone in such worth. I do wish that it was not necessary to use modern, hip and basically childish adjectives such as "cool" to justify someone's rightful place in the world. (Yes, I know, I've done it myself by using the word "hip.") And I also wish that the author, praiseworthy as his effort might be, was a better writer and critic.

On a more serious note, beginning in 2002, the Cork University Press, in association with the Irish Film Institute began publication of a series of slim volumes devoted to modern Irish feature films: This Other Eden, The Field, Felicia's Journey, The Butcher Boy, Nora, and December Bride.

And Irish filmmaker Neil Jordan is one of the new subjects in the Contemporary Film Directors series, edited by James Naremore and published by the University of Illinois Press. As with all the other volumes in the series, Neil Jordan by Maria Pramaggiore ($50.00/$19.95) is both thorough and first-rate. The text is highly readable, and is supplemented with an interview, a filmography and a lengthy bibliography. What I think is so commendable about this series is that each book sustains the same high standard and the format never varies. What may be found in the Neil Jordan volume is also replicated in the second and third new additions to the series, beginning with Jean-Pierre Jeunet by Elizabeth Ezra ($60.00/$19.95). The only problem I have with this particular volume is that I have, in all honesty, never heard of the director, and with only four feature films to his credit (according to the filmography), does he really rate a book-length study? Okay, I have to confess that I do know one of his films, and I have actually seen, Amélie, but I must also admit that I didn't think it was that good.
More important to the series is Paul Schader by George Kouvaros ($50.00/$19.95). Schrader has written some important American films, and directed a surprisingly large number, of which a handful may be rated as of lasting prominence. My only regret here, and this has obviously to do with the limited number of pages available, is that the author does not provide sufficient documentation on Schrader's Calvinist background and fails to pay adequate tribute to his brother, Leonard Schrader.
Paul Schrader by George Kouvaros
I guess the point I am trying to make is that good as this series is – and it is good – what a pity it is that so many major contemporary directors are ignored. I am not suggesting that one should include, say, Robert Zemeckis or Martin Scorsese, who are more than adequately discussed in other volumes, but there are many fine filmmakers whose body of contemporary work really needs in-depth study and documentation.
Also from the University of Illinois Press is Karen McNally's When Frankie Went to Hollywood: Frank Sinatra and American Male Identity ($65.00/$24.95). I don't know if this is exactly a "compelling cultural history of Frank Sinatra's Cinematic Career," as its publisher claims, but it is, quite surprisingly, the first in-depth study of the singer's film career. I was pleased to note the considerable space devoted to the short subject, The House I Live In (which, in a way, almost is deserving of if not a book at the least a monograph of its own). I was also most favorably impressed by the sensible, accessible writing style, and the author's ability to place each of the Sinatra films in context in terms of American cultural history.

James Naremore, editor of the Contemporary Film Directors series, has a book of his own out: More than Night: Film Noir in its Contexts (University of California Press, $24.95). This is an updated and expanded edition of a book first published in 1998. I tend to judge books on film noir, and there are many of them, by their inclusion or not of two films by André de Toth, which, to me, are uncredited "gems" of the genre. The films are Pitfall and Crime Wave, neither of which make it into here. This is disappointing in that More than Night is a good, solid introduction to the genre, unhindered by academic jargon.

Lynn Kear and John Rossman co-authored Kay Francis: A Passionate Life and Career, published in 2006, about which I have already written positively. They return to the actress with The Complete Kay Francis Career Record: All Film, Stage, Radio and Television Appearances (McFarland, $55.00). This is very much a supplement – a 300-page addition – to the original work, with complete credits, very lengthy synopses and a selection of critical comments for each of the films, a listing of stage appearances (with dates following Francis' cross-country tours), and a listing of radio and television appearances (both relatively short). In addition, the book, includes information on Kay Francis-related memorabilia, a record of her residences, a biography of players associated with her, and a lengthy bibliography. There is also a record of stage appearances by her mother, Katherine Clinton. It is almost scary to consider what the authors have in store next for us in their obsessive, if commendable, desire to record all things Kay Francis. Perhaps the Ultimate Kay Francis Encyclopedia, or an A-Z listing to include the actress' various moods and characterizations on screen.

Theresa St. Romain's Margarita Fischer: A Biography of the Silent Film Stars (McFarland, $55.00) contains a quote from me, although I do not make it into the index. I ask, "Can we really judge [a career] on the basis of one film." That is pretty much what the author here is asking us to do. Can we justify a biography of a relatively minor silent film star simply because someone has become a devoted fan and, happily here, had unlimited access to the subject's papers (at Wichita State University, of all places). I don't know that I have a clear-cut answer to either question. No, we cannot determine if any player, silent or sound, is good based upon one or even two performances. Performances, good or bad, are often determined by the ability of the director. A good director gets a good performance. A bad director often, but not always, assures a poor one. (Of course, there are some actors and actresses who can rise above any direction. Sam Wood, who couldn't direct to save his life was always lucky in selecting talented players for his films.)
Can a book such as this be justified? Perhaps. Particularly if there is a publisher dedicated or foolish enough to publish the work. Is such a book worth the effort to read? Probably not. It is useful to have to hand if there is a research question to answer, but can one really support the expenditure of hours or days of one's life in such a pursuit? A film buff, of course, would answer that one can – but then, quite frankly, many film buffs have no lives.
The one argument that can be made in favor of this Margarita Fischer biography is the wealth of documentation available to the author and the author herself. Unlike so many fan-created texts, often filled with outrageous and faulty opinions, this is first-rate. Not only can the author write, she can hold one's attention. Even while I cannot advocate purchase of this book, except by a library with a large budget (if such still exists), I can praise the effort and wish the author well.
Silent Lives by Lon Davis
I also wish Lon Davis well with his Silent Lives: 100 Biographies of the Silent Film Era (BearManor Media, $24.95). The volume serves as a biographical survey of 100 personalities from the silent days, with basic information as to birth and death, an informative text, and source references. What places this book apart from others is the original, if sometimes curious, choice of subjects. While actors and actresses predominate, directors are also here – not only the obvious American choices, such as D.W. Griffith, but also Britain's Alfred Hitchcock – as well as studio executives, such as Thomas H. Ince and Adolph Zukor, and the really obscure, like H.M. "Beanie" Walker, who wrote the title cards for many of the Hal Roach comedies. (I do wish that Lon Davis and others would call these what they were – subtitles and not inter-titles, as academics today insist on labeling them.)
The book also includes a dog, Rin-Tin-Tin (where is Strongheart?), an inventor, Thomas Alva Edison, a cinematographer, Billy Bitzer, and a cartoon character, Felix the Cat. It is this weird and wonderful assortment that makes the book far more than just an average reference work. You can actually read and enjoy it. I recommend so doing.
I am advised that Silent Lives also comes with a DVD featuring performances from some of the cast of characters. I have not seen it, and so I am not sure that it is really a necessary adjunct to the text.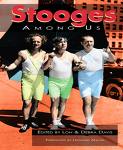 With his wife Debra, Lon Davis is also editor of Stooges Among Us (BearManor Media, $19.95). Knowing that just the mention of the name, the Three Stooges, is enough to make me cringe, Davis is a brave man actually to have sent me a copy of his book and asked me to comment thereon. Well, it has a foreword by Leonard Maltin, but then, it seems, so do a great many other books these days. What makes Stooges among Us different is that it is not a biography of the comedians, nor a study or their films, but rather a collection of personal reminiscences by those who knew them, from their colleagues to their fans. Diana Serra Cary, aks "Baby Peggy," makes a surprise appearance, while another Baby, Rose Marie, gives her father credit for providing Curley (or is it Curly?) with his name. I was pleased to find a piece by Steve Soliar, whom I remember from many, many years ago, when he worked for Groucho Marx, as being one of the good guys. All of the photographs appear to be new to Stooge publications, and many are highly personal snapshots from contributors.
The main problem here is that there is an awful lot of repetition in the pieces; the fans have much the same things to say. Certainly, Mark Evanier is quite funny in his story of Larry Fine's and Babe London's fighting to retell the same old anecdotes. He and others mention in highly critical terms the Larry Fine "autobiography" written by James Carone, but nobody seems to have been able to identify Carone even after all these years. Fans of the Stooges (and you really shouldn't call them the Three Stooges, because there were more than three of them) will be delighted by this present volume, non-believers will already have skipped this review.
There is some surprising news out of BearManor Media, and that is that owner Ben Ohmart is planning to relocate to Japan. He is to continue business operations here with help from others. I also hear that BearManor will have some titles available from Edward Hamilton, whose monthly catalogs feature many hundreds of remaindered books. None of the BearManor titles will be remaindered, but will be listed as new books with reduced prices. If nothing else, the plan should help BearManor reach a wider audience.
Back in 1982, my "Filmmakers" series from Scarecrow Press had only recently got underway, and the third volume in the series was a first-class study of the life and career of comedian Harry Langdon by William Schelly. Now, some twenty-six years later, the "Filmmakers" series is just a memory, I have been ignominiously discarded by the unpleasant folks who currently run Scarecrow Press, and, on one positive note, William Schelley has a second edition out of Harry Langdon: His Life and Films (McFarland, $45.00). It contains all of the good stuff from the earlier volume plus much that is new. There is a complete filmography, together with many more photographs than graced the Scarecrow edition. In a way, it is surprising that this is the only volume in print on the comedian – there was another book some years ago, Harry Langdon: The Comedian as Metteur-en-Scene by Joyce Rheuban, the title of which gives it away as an academic text, but it has long disappeared from the bookshelves.

J.P. Telotte's The Mouse Machine: Disney and Technology ($60.00/$20.00) contains all that one might expect on Disney's use of technology, which has, as he points out, often been cutting edge. Telotte deals with the coming of sound, the use of the three-strip Technicolor process in the filming of the "Silly Symphonies, the use of Fantasound with Fantasia, and the technology that has gone into the creation of the Disney theme parks. There is too much quoting from academics and others; endlessly, one reads a sentence that begins "As," and is followed by a comment from an outside source. It is not so much a copious history, as one of the blurb writers suggest, but rather an introductory history, primarily useful as a textbook. There are, of course, no illustrations. And it is not clear if the author approached Disney for some and was turned down, just as the author makes no explanation as to why he did not use the primary source materials in the Disney Archives. If he was turned down, he should say so. In fact, the number of acknowledged sources is pitifully small. There is very obviously much more than might be written on this important subject.
The distinguished theatre director Charles Marowitz has published a delightful paperback, which examines the early years of recording and the artists involved. The Sounds of Music (World Audience, $17.95) both analyzes and celebrates the great names from an age when recordings were on cylinders and discs – and a good deal better for it. Included here are the obvious, at least for people in the know, such as Billy Murray Van and Schenck, Nora Bayes, Aileen Stanley, Annette Hanshaw, and Rudy Vallee, as well as the less obvious, such as British male impersonator Vesta Tilley and, also from the U.K., American song-stylist Elsie Carlisle. The biographical sketches are interspersed with generally commentary on the recordings of the period, and the book concludes with an incredible first-hand account of the Edison Phonograph Company by a gentleman named Clarence A. Ferguson, who started with the organization in 1907.
I imagine this volume is not easy to find in bookstores, and potential purchasers may wish to check out www.worldaudience.org.

Within days of my reading Charles Marowitz's book, I received a review copy of Vocal Tracks: Performance and Sound Media by Jacob Smith (University of California Press, $60.00/$24.95), which deals with vocal performance styles. The subject is not as boring as that description might suggest, and the author has obviously undertaken extensive (if not totally conclusive) research. Unfortunately, the book reads like a dissertation, complete with boring introduction and conclusion, and is overwhelmed by academic theories from all over the map. One constantly wonders why the author did not know about this or know about that and concentrates on the obscure at times rather than the obvious. For example, I was intrigued by a chapter with the subject of "Erotic Performance on Record," but instead of discussing, say, the early almost obscene recordings of Ethel Waters, the British recordings of Sophie Tucker, or the outrageous recordings by Cliff Edwards on some lesser labels in the 1930s and 1940s or even, as the author is based in the United Kingdom, on recordings banned by the BBC (and long available on a record with that title), the author discusses stag films and burlesque in which, quite obviously, sound is not a major issue. It's OK, and I guess original, to discuss prank phone calls, but why does not Lenny Bruce make it into the book or, for that matter, the kids from South Park who make very good use of sound if not always of the polite variety.
The Badger Kid: The Autobiography Of Arthur Gardner
Arthur Gardner is an extremely reticent fellow. I have tried, without success, to persuade him to promote through book signings and the like his autobiography The Badger Kid (Trafford Publishing, $19.95), which I had the pleasure to edit for him. His is a fascinating story of coming to Hollywood from Wisconsin, determined to be an actor, and beginning his career as an extra at Universal, including playing one of the German youthful soldiers in All Quiet on the Western Front. He was the leading man in two outrageous 1930s exploitation films, Assassin of Youth and The Mystic Circle Murder before turning to production with the King Brothers. Eventually, in 1951, he joined with Jules Levy and Arnold Laven to form Levy-Gardner-Laven Productions, which continues through the present and was responsible for the television series The Rifleman as well as twenty-four feature films, all documented in the book. Someone should organize a tribute to this company, for, without question, its first three films, Without Warning, Vice Squad and Down Three Dark Streets, are superb examples of film noir, all shot on actual locations in the Los Angeles area.
Again, this is a book that will probably need to be purchased on the internet at www.trafford.com.

When Walter Mirisch first came to Hollywood and to Allied Artists, it was Arthur Gardner who showed him around. Coincidentally, Walter has also written his autobiography, I Thought We Were Making Movies Not History (University of Wisconsin Press, $29.95). This is a guy who has won three Academy Awards for Best Picture, the Irving G. Thalberg Memorial Award and the Jean Hersholt Humanitarian Award, and his story, which is very much concerned with family, is well worth reading. It is highly recommended.

Film in the age of transnational production is the subject of Randall Halle's German Film after Germany: Toward a Transnational Aesthetic (University of Illinois Press, $60.00/$25.00). The film in question is German, with the author claiming Germany as one of the world's largest film producing countries, and its future from the 1990s onwards has been more and more as part of the European filmmaking industry. The book makes a valid point in terms of the manner in which cinema is changing for the better and becoming increasingly international in scope and outlook, and the text is closely-written but certainly not unreadable. The author discusses a considerable number of films, capturing their content and context surprisingly well.
In the course of researching my latest book, a cultural history of the fan magazines, to be published by the University Press of Kentucky, I realized that despite the large quantity of volumes available relating to the blacklist and its impact on various individuals, there is no general history of the subject – nothing that serves as a quick reference or, for that matter, a handy textbook. Hopefully, the omission will be resolved later this year with the September publication by Edinburgh University Press of Reynold Humphries' Hollywood's Blacklists: A Political and Cultural History. A review copy is promised, and I look forward to tearing it apart.